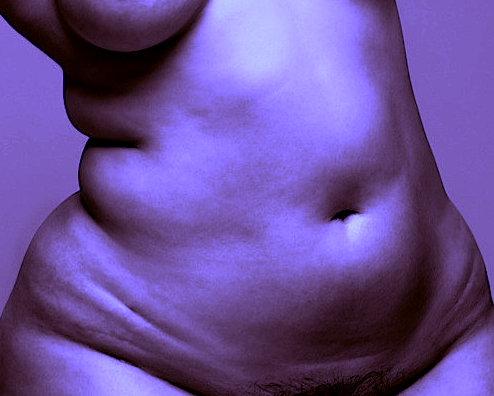 Originally Posted on December 1, 2017
I didn't start paying too much attention to the size of my body until high school. I used to be really skinny.  I had a small chest, small butt, small everything. Never really thought much of it. That wasn't until people started making comments about my body and other women's bodies. Boys would thirst over the girls who had curvy bodies. The girls with big breasts or a big butt, or both. Then boys would see me. They'd say exactly what was on their mind. They'd make comments about how small my breasts were. They'd say my breasts were too far apart. They'd tell me I had no butt.  In their eyes, I paled in comparison to girls with curvy bodies. And honestly, it hurt.
Fast forward to around 2015. My body started developing more. I started to have a curvy body. Men and women would compliment me. I felt better about my body because other people liked my body, which wasn't healthy at all. About a year later, I put on more weight and my stomach was no longer flat. People would comment on my weight and tell me I was getting fat. I was ashamed to wear crop tops or to even take pictures from an "unflattering" angle. I remember my ex saying "Lose that.", as he pointed down at my stomach. I hated my body.
I decided that it was time for me to become "fit". I wasn't choosing that for myself, I chose it for others. Everyday I stressed on what I ate. I exercised whenever I could. Exercising is never a bad thing but I was doing it for all of the wrong reasons. Everyday I'd take a look in the mirror at my stomach to see if it had gotten smaller. I'd check out the sizes of other girls stomachs. I'd look at Instagram models and roll my eyes at how "fit" their bodies were.
I see so much body shaming on social media and television. We've seen Rihanna being shamed for gaining weight. We've seen women like Kim K. and Beyonce being shamed for gaining weight while pregnant. We've seen Gabourey Sidibe and Ashley Graham being shamed for simply being comfortable with their bodies. We've even seen Serena Williams be shamed for being too muscular. It's all bullshit. We're so brainwashed by the images we see everyday that we think it's unnatural for a woman to have anything but an hourglass figure. Then when a woman does have what some may view as the "perfect' body, she's fake. No one's ever satisfied, and that's why it's important to not give a damn how anyone else feels about your body. No one deserves to power to tell us what we should look like. Learning to love yourself is a process, it doesn't happen overnight. It's a journey.