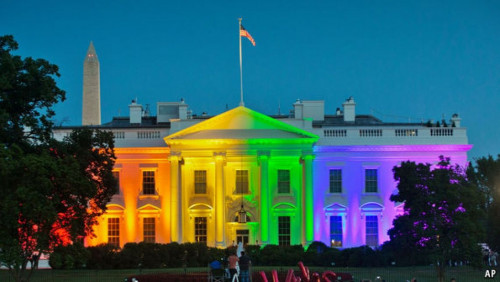 Originally Posted on May 5, 2017 
June 26th, 2015 seems like a long time ago. That was the day the Supreme Court ruled states cannot ban same sex marriage. Now, almost two years later, LGBT rights are back in the crosshairs. Legislatures in Texas, Arkansas and North Carolina are attempting to push discriminatory bathroom bills against the transgender community, forcing them to use restrooms according to the sex listed on their birth certificate. Should this become law nationally, trans men like Buck Angel would be legally mandated to use the women's room.  
Elsewhere, in Alabama, some county judges have refused to issue marriage licenses to same-sex couples, citing a legal precedent enacted in 1961 to preserve segregation. Anti-LGBT sentiment is ramping up globally, with the Chechen government enacting a pogrom against it's gay citizens. Given the potential collusion between the US executive branch and Russia, there's ample cause for concern. 
If these, or any other issues threatening the LGBTQIA community concern you, come join the Love is Love March in Ferndale this Sunday, May 8, in Geary Park between 5-9 PM and turn the White House rainbow again! Hosted by MDPAN, this event seeks to bolster solidarity between those marginalized by their gender and sexuality. We march against the hatred and bigotry of those who forced so many to hide their true selves, for threat of alienation, persecution and violence. 
We won't be alone at the march, the following groups will have tables set up for those who want to get more involved, and speakers too!

- Taking Back Orange: A means for silent protest against Trump and his cabinet.
- Putting the People First: Bill Cobb's campaign for Governor of MI, who agreed to speak at the event. His platform focuses on improved education and clean, affordable water for all of Michigan.
- Planned Parenthood: Providing essential services for reproductive and general health, in danger of losing funding under the current regime.
- No Space for Hate: A group of activist parents local to Ferndale who fight discrimination in Metro Detroit.
- Studio 416
- GLSEN - Southeast Michigan: This organization works to create a safe space for LGBTQIA youth in schools.
- Detroit Light Brigade: An illuminating art group, will be providing a light demonstration after the march.  
Last, but certainly not least, MDPAN's own Donnie Nuggets will be making an appearance!
#gay #lesbian #transgender #trans #queer #MDPAN #LGBT #LGBTQIA #loveislove #TakingBackOrange
I am concerned that our local Frederick, Maryland charities may distribute the donated funds unfairly, during the emergency.
It is very common for our charities to help women with little children and entirely forget about the existence of working poor single men, many of whom are currently our of work and out of pay. This includes poor, working poor, homeless, disabled men of all ages who are struggling to survive in today's economy, often while trying to provide for their families and/or paying child support.
In the post-modern, highly automated world, having a stronger body is only a marginal advantage. The health of those men who struggle in poverty for many years usually declines, leaving them to no advantage at all.
Personally, I found no support from the local charities and county agencies in finding work that would accommodate my physical limitations (severe chronic pain) and very limited support in easing the financial burden of my illness, that falls on me and on my family. For this reason, I was unable to prepare for the disaster properly, and feel vulnerable during a disaster.
There is also the LGBT community, which constantly faces subtle hate and discrimination and to which, the old rulings, based on the stereotypical male and female roles, do not apply.
Thus, I advise that we review the old rules and policies that leave some members of our community very marginalized during the difficult times of the coronavirus outbreak.
-Vladimir Tolskiy