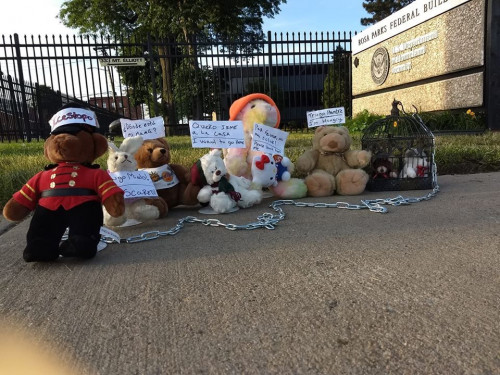 Originally Posted on July 5, 2018
6/27 - Not long after sunrise, a DPD squad car approached the Occupy ICE Detroit encampment. A lone officer, flanked by two employees of Centerra Security, demanded we remove displays attached to the ICE Field Office fence. When asked whether the issue was just the signs, or the tent city itself, the officer stated he believed the tents were fine. After 30 minutes speaking to his superior, he confirmed the sole issue was the signs.
The five occupants present, groggy and disoriented, slowly complied. The fifteen foot "#ShutItDown" banner was the last to go, folded like an American flag while the occupants belted out a heavily butchered version of Taps.
The next few hours were rainy, and punctuated by a fascist bearing an actual American flag, a sign reading "God Bless Our Law Enforcement", a CPL and a gun. After calling one of the women protesting ICE a "skank", DHS officers arrived on the scene. Despite a long deliberation with the fascist, DHS returned to state that both parties had a right to protest, and the armed white supremacist was viewed no differently than non-violent protesters attempting to prevent genocide.
Eventually, the fascist left the encampment to spend the next hour licking the boots of a DHS SUV observing the occupation. 
Not long after, Detroit Animal Control arrived on the scene to force Erick's service goat, Deer, off the premises. After a lengthy, and thoroughly bizarre deliberation that featured phrases such as "live goats are not allowed in the City of Detroit" and protesters firing back "No goat is illegal!", Erick was forced to leave the encampment.
At 11:42 AM, a DHS SUV crept up to the protest site, and the agent stated he had received orders to strike the camp. Occupy ICE Detroit had until 1 PM to remove all personal property from the premises, lest it be stolen and thrown away by DHS. No reason for this action was given, beyond it was a command from a superior. As a torrential downpour began, the resistance hurried to preserve items of value before the encampment was destroyed. Multiple vans and a car were packed to capacity, but several tents and signs remained, their owners busy with employment or education.
These concerns fell on deaf ears as the waterlogged Occupants shouted "Shame!" while DHS agents scrapped the tents. The agents openly stated reluctance to follow this order, it had little effect on the execution.
Meanwhile, Occupy ICE Detroit is still continuing its picket, and would later learn the reason for the destruction. Large numbers of warrants were served that day, and the Monroe detention facility got fuller.

#Immigration #RacialJustice #occupyice #detroit #abolishice #MDPAN #stoptrump #annarbor #Immigration #dhs #ice #cbp #racism