We, the Undersigned, Demand that the Senate Expel Senator Josh Hawley of Missouri for Acts of Sedition.  Senator Hawley lied and supported the lies of President Trump attempting to undo the will of millions of voters in various states. He visibly showed his support to domestic terrorist rioters who stormed the Capitol on January 6, 2021, attempting to stop the procedural counting of electoral votes, certified by each state. Senator Hawley actions incited and encouraged an insurrection.
The Senate does indeed have the Constitutional authority to expel its members. Article I, Section 5, of the United States Constitution provides that "Each House [of Congress] may determine the Rules of its proceedings, punish its members for disorderly behavior, and, with the concurrence of two-thirds, expel a member." Since 1789, the Senate has expelled only fifteen of its entire membership.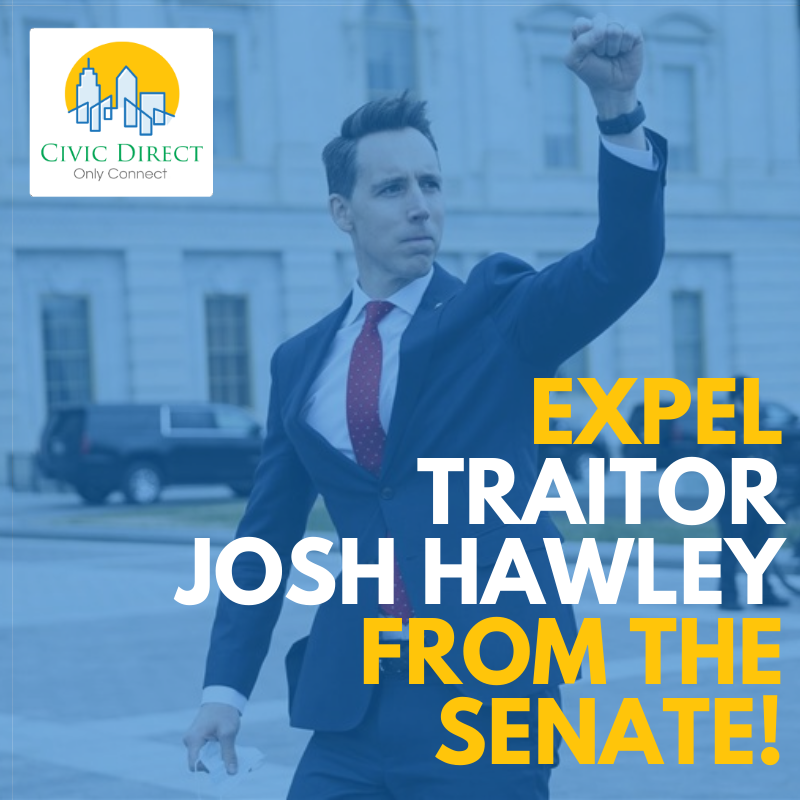 Demand the Senate Expel Sen. Josh Hawley for Acts of Sedition
Resign or be expelled, traitor. His behavior was seditious at best and he should rot in prison.

Expel him, he is a traitor

Condoning or encouraging an armed insurrection can not be tolerated in a free and open democracy. Josh Hawley has done exactly that by spearheading the movement to object to the certified vote counts presented to Congress, and with his antics as he entered the Capitol building on 6 Jan. It is telling that he has no objections to the vote count upon which his own Senate race was decided. He has proven to be an enemy of free and fair democratic principles, and thus is unfit to hold an elected office.

Expel and bar from politics.

Remove all insurrectionis especially Hawley.

On January 6th, 2021, a violent mob of extremists motivated by conspiracies that were sowed by the White House stormed into the Capitol, forcing legislators and their staff to barricade with the protection of armed guards. After hearing an address with yet more incendiary rhetoric from the outgoing president, they forced their way inside the Capitol building, carried a Confederate flag through the rotunda, and threatened lawmakers and our seat of government in Washington DC. Anyone involved in inspiring, encouraging, and abetting these terrorists must be held responsible for their actions. Unfortunately, they have been enabled by a large cross section of extremist politicians. They have made a mockery of democracy by embracing the fascist rhetoric of a far-right figurehead with a far-right movement behind him. They have suppressed votes while lying about the nature of our election system, sullying our elections while opposing their legally legitimate losses. They have proven themselves entirely unfit for office. They must resign or be unseated by Congress, according to the 14th Amendment.